---
Meet the Doctors
Dr. Teresa Labuszewski

Dr. Teresa Labuszewski is a native western New Yorker, having attended Starpoint Central School from kindergarten through 12th grade. She received a B.A. in psychology from SUNY at Buffalo in 1975, a Ph.D in Psychology from SUNY at Stonybrook in 1980 and her DVM from Cornell University in 1984. She has worked in several western New York veterinary practices, gaining experience and learning from her fellow veterinarians, until 1992 when she opened The Animal Hospitable. You can be assured that our compassionate, caring staff will treat your pet as if they were one of our own. We do not practice cookie cutter medicine, with puppy or kitten "packages" that are the same for each animal. Instead we practice thoughtful medicine based on you and your pet's individual needs.
---
Technicians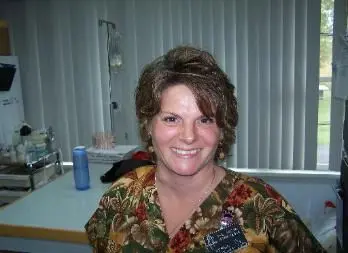 Deb
My name is Debbie. I have been married since 1996 and have 2 children, Kirsten and Haley. My two dogs are Bruno and Odin; and two cats Simba and Tiger-rose. I graduated from Medaille in 1990 and have worked as an Animal Health Technician since. I worked at the Veterinary Emergency Clinic for 10 years and have been at The Animal Hospitable on and off since 1992. Over the years I have been involved in many activities with animals including showing horses and agility with dogs.
---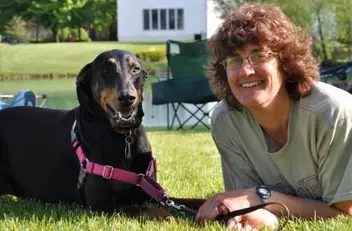 Andrea
Hi, my name is Andrea. In 1986 I graduated from SUNY Delhi as a licensed Veterinary Technician. I've worked at a few other clinics before starting at The Animal Hospitable in March of 2015. My animals are Faith, a doberman, and Rosie, a cat. In my spare time I enjoy photography, riding my recumbent bike, cooking and gardening.
---
Alyssa

Hi, I'm Alyssa! I graduated from SUNY Canton in 2020 with a bachelor of science in veterinary technology. I've always been an animal lover and currently have a PBGV (yes, that's a real breed) named Griffie and a cat named Olive. In my free time I like to explore different WNY breweries, hang out with my family, and root for the Buffalo Bills with a plate full of chicken wings.
---
Office Manager
Cheryl
A WNY native who is married and living in Wales. I'm a licensed veterinary technician who attended SUNY Delhi. I have 30+ years of veterinary experience. Owned by two felines, Frank and Eragon. I enjoy quilting, reading and painting.
---
Receptionists

Katarina
Hey! My name is Katarina. I grew up on Long Island, and have always had pets. I moved up here to go to school. I currently have a cat named Downie. In my spare time I love to cook, play video games, and crochet. I'm currently learning how to program in my free time.
---
Welcome Committee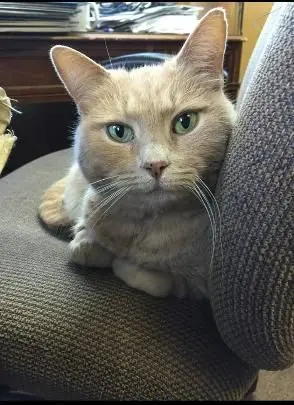 Fiona

Hello, my name is Fiona or Fifi for short. I live here at the clinic and love to sleep and get attention. I am here everyday to greet you and will welcome any love and attention you are willing to share. If you don't see me, I'm likely sleeping in my box on the desk or curled up in front of a heater somewhere! I LOVE treats and I also love to jump up on the counter and rub all over your belongings while you're trying to check out. I hope to see you soon! (If you are allergic to me, please don't hesitate to inform my caregivers. I am very happy to continue my nap in another room.)

---
Pablo

Hi, my name is Pablo. I am Dr. Teresa's partner in crime! My mom rescued me after I had eaten things I shouldn't have. I am a 6 year old Dachshund-Poodle mix (my mother was a miniature dachshund and my father was a poodle). I am very friendly and love to get my tummy and chin scratched. I come to work with my mom every day, so if you can't see me you will definitely hear me greeting you when you come in. Can't wait to meet you, please feel free to ask where I am if you don't see me up front!